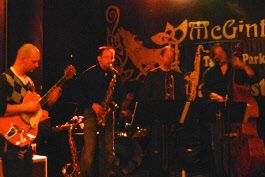 We want to thank all of those dedicated folks that came out yesterday to McGinty's in Silver Spring to cheer us on to a victory in the 2012 Takoma Park Jazz Festival Jazz Brawl. It was quite a drive and time commitment to get there and we were all really touched by the support.
The Jazz Brawl is the Jazz version of a battle of the bands. We were up against some really talented groups, it was a great afternoon of music. As the winners of the competition we have secured a spot in the 2012 Takoma Park Jazz Festival on June 10.  This will be a nice feather in Slick's cap!
Stay tuned, we will post more info when available.